Electrical work in your home or office can be complex, and it is crucial to ensure it is done correctly for your safety and that of others. Electrical work is not just about installing lights, outlets, and wiring; it's also about ensuring that everything is up to code and operates safely. This is why it's so important to hire a licensed electrician in Brighton to handle all your electrical work. In this blog post, we will discuss the importance of hiring a licensed electrician in Brighton.
Safety
Safety is always the top priority when it comes to electrical work. Electrical work may seem simple, but it can be quite deadly if done incorrectly. A licensed electrician in Brighton knows the code requirements and how to do the job safely. They will ensure that every part of the electricity system in your home or office functions properly, reducing the risk of electrical fires and other accidents.
Quality of Work
Hiring a licensed electrician in Brighton means that you can count on an expert whose works are up to code. A knowledgeable electrician knows the necessary permits and codes required for electrical work. They understand what needs to happen, and they carry out work according to the necessary standards. You can rest assured that the job is done correctly when you hire a licensed electrician.
Saves Money
When you check the price of hiring a licensed electrician in Brighton compared to doing the electrical work yourself, you may feel it is expensive. However, hiring a licensed electrician can save you some money in the long run. Licensed electricians know how to diagnose issues and get the job done efficiently, which means they require less time to complete the job. More so, they will also protect your home and appliances from damage that can arise due to poor electrical installations.
Insurance
Having proper insurance coverage is also crucial when it comes to installing or repairing electrical systems. Licensed electricians usually have liability insurance which covers you, your property, and other people. You're unlikely to experience any legal liabilities if an accident happens in your property when they are at work because they are properly insured. But when you hire an unlicensed electrician or do it yourself, you may be responsible for any injuries that occur during or after the construction.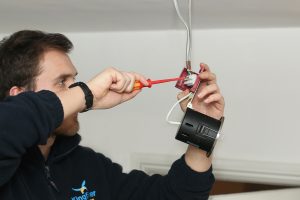 Time and Convenience
Finally, hiring a licensed electrician in Brighton saves you time, hassle, and inconvenience. You can enjoy the convenience of having the job done correctly, without having to worry about anything. Electricians will handle all the work, including applying for necessary permits. Besides, they provide a warranty, meaning that if any faults occur after the work is done, they can come back and rectify the problems without additional charges.
Conclusion:
In conclusion, electrical work can be dangerous, and it requires a licensed electrician in Brighton to handle it safely. A qualified electrician works efficiently, quickly, and to the required standards. They also have proper insurance coverage that ensures you're protected against legal liabilities and any other type of damages. It may seem costly to hire a licensed electrician compared to doing the job yourself, but you'll have peace of mind knowing that the job has been done correctly.
For experienced and licensed electricians in Brighton, contact Kingfisher Electrics. We are Brighton and Hove's most trusted and highly recommended electricians. To learn more about our services, check out our website.