If you intend to use your electric vehicle frequently then having your own dedicated charge point at home really is a no-brainer.
Most charge points are typically wall mounted and must be installed by a qualified electrician. These units come in a range of speeds which will be discussed at the bottom of this very page.
Aside from the obvious benefits of having your own charge point as opposed to using a public one, there is an Electric Vehicle Home Charge Scheme (EVHS) in place which has been set up by the Government to help fund this new technology. It could cover as much as 75% of the total costs in some cases.
Types Of Charge Points
Slow Chargers (7-26 Hours*):
These charge points are ideal if you are not in a rush and are typically used in the home, overnight via a 3-pin commando socket (which could be plugged into a regular 240v UK socket). Easily installed by one of our expert team.
Rapid Chargers (30-45 Mins*):
These charge points offer the fastest charge speeds and are likely to be located near main roads and at motorway service stations. These units generally have specialist connectors and cannot be plugged into regular 240v UK sockets.
Fast Chargers (45 Mins–9 Hours*):
You are likely to find these in public places where it's fairly normal to be parked for an hour or so, such as supermarkets and leisure centre car parks. Also via a 3-pin commando socket (which could be plugged into a regular 240v UK socket).
*Estimated, average times for a full charge – these figures are the result of multiple tests involving different vehicles with different charge outputs and are to be used as a rough guide only.
At Kingfisher Electrics our staff are trained to the highest standards in the latest technologies. A fully insured company, we are members of NAPIT The National Association of Professional Inspectors and Testers a leading Government approved, UK Accreditation Service.
Home Rewiring
Lots of those beautiful Regency period properties on Brighton and Hove seafront, as well as plenty of other more modern properties, have old wiring that wasn't designed for powering modern technology.  Some can even be unsafe.  That's why we offer full or partial home rewiring to install safe, energy efficient wiring into all kinds of properties whether they're modern purpose built flats or historical conversions. 
Electric Car Charging at Home
If you live somewhere with a bit of space like the Hove Park area or Hangleton or Five Ways where you have room for a driveway, you may want to take advantage of this space by having an electric car charging point installed to help the environment and bring down your transport costs.  We can advise you on the best options for your circumstances and install the charging point with as little disruption as possible.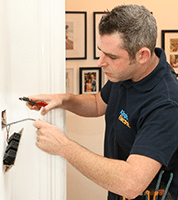 With extensive knowledge and expertise in both domestic and commercial installations, we offer you a prompt, courteous and professional service. If you're looking for quality work at a competitive price, look no further than Kingfisher Electrics.
EICR Tests
It's a legal requirement for all Brighton and Hove landlords to ensure their properties have safe electrics and they prove this by having an EICR carried out.  Whether you're renting out a HMO in Moulsecoomb or a one bedroom flat in Kemptown, you now need to have one of these inspections carried out and, as local experts in these types of reports, we can do them for you to keep your electrics safe and keep you legally compliant.
Whether you've got a commercial unit in Portslade that needs new electrical systems installed to power new equipment or a coffee shop near the Royal Pavilion which needs a complete rewiring, we can help.  For businesses expanding, changing or refurbishing, we offer advice and a comprehensive service to take care of all your electrical needs.  Talk to us about what you want to achieve and what your budget is and we'll help you come up with a solution.
275 Kingsway, Hove, East Sussex, BN3 4LJ
5th Floor, Tower Point, 44 North Rd, Brighton, East Sussex, BN1 1YR