Domestic Electrician for your home
Customers choose
Kingfisher Electrics
because:
Our prices are so competitive
We offer free quotes and
technical advice
Our engineers are prompt,
courteous and reliable
Our qualified staff are adept at
problem solving
We are experts in both the
domestic and commercial sector
We install, test and maintain our
installations

Our experienced domestic team are capable of handling any domestic electrical works in your home. All our staff are highly professional and always endeavor to maintain a clean and safe working environment.
Here are of some of
the most popular
services we offer. If
however you have a
job which not listed,
please give us a call
to discuss your
individual needs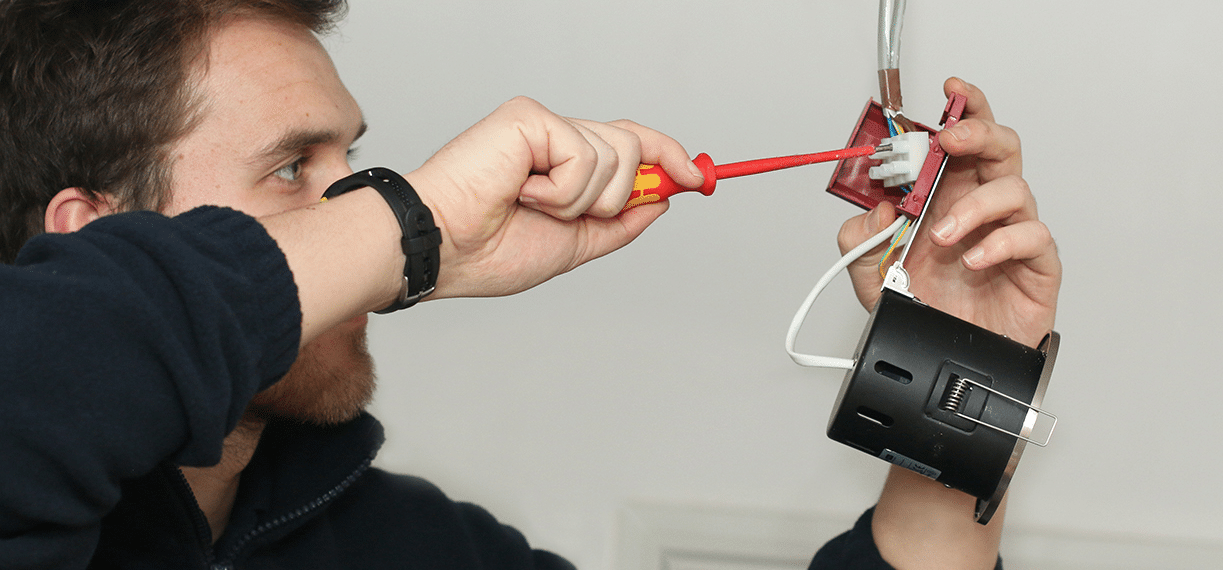 Fault finding Our team of NAPIT accredited test and inspection engineers are highly skilled in both tracing and rectifying faults in the home as quickly as possible.
Test and inspections Sadly each year, around 70 people are killed and 350,000 are seriously injured because of electrical faults in the home. We recommend that every home should have a regular EICR check to ensure your electrics are safe. An Electrical Inspection Condition Report(EICR)is a thorough test and inspection of all the fixed wiring and accessories in a property, much like servicing a boiler, or an MOT for a car, the electrics in a residential building need to be checked regularly for any signs of wear or deterioration.
In most cases the testing takes between 3-4 hrs and should be conducted once every five years.
PAT Testing Portable appliance testing (PAT) is the term used to describe the examination of electrical appliances and equipment to ensure they are safe to use. Most electrical safety defects can be found by visual examination but some types of defect can only be found by testing.
Landlord's condition reports As a landlord you have a duty of care to your tenants, and that means providing homes that are safe for them to live in. An Electrical Installation Condition Report or EICR electrical safety test, ensures the electrical systems in a building are well maintained.
Much like servicing a boiler, or an MOT for a car, the electrics in a residential building need to be checked regularly for any signs of wear or deterioration. EICR for landlords provides the peace of mind.
Immersion repairs and changes Our team are able to test and diagnose faults with your immersion heaters offering a quick repair or even a complete replacement of the heating element if need be.
Consumer unit upgrades Consumer units a.k.a 'fuse boxes' or 'fuse boards' often fail to meet the latest safety standards set by the HSE. If your home has re-wireable fuses or lacks RCD protection then it may be time to consider an upgrade. The latest units are fire proof, clearly labelled and convenient to re-set following a trip and come with rcd protection as standard. An RCD, or residual current device, is a life-saving device which is designed to prevent you from getting a fatal electric shock if you touch a live bare wire.
Additional sockets Did you know that overloading Sockets increases the risk of an accident or fire? Adding additional points is relatively inexpensive and easy to do depending on the condition of your current installation.
Relocation of sockets We can move almost any existing sockets to whichever position is more convenient for you.
Light fittings Fittings that use incandescent light bulbs or halogen lamps are no longer in production. LED lighting is relatively new on the market. Their efficiency, lifespan and versatility are significantly higher than traditional lighting methods, such as incandescent and fluorescent. Whilst the upfront cost of the fittings may seem expensive in the beginning you will find they save you money in the long run.
Generators Because in England bad weather and storms are becoming more frequent, a commercial generator makes good sense for your business. It's reassuring to have a way of running power when an outage occurs. Before you invest in any kind of standby generator, give us a call to consider your options.
Rewires We can replace all fixed wiring, sockets, switches, light fittings, isolators and fuse board(s)to meet the latest safety regulations. No job too big or too small.
Partial rewires We are able to replace fixed wiring, sockets, switches and light fittings etc. in particular areas of your home whilst keeping existing circuits working.
Outdoor power Need power for an outdoor hot tub or your new shed? Let us run some new fixed cabling to whichever outdoor point you need.
Security lighting The right type of security lighting can often be used to deter or detect intrusions or other criminal activity on your home. With many different designs available we're sure we can find the right style to suit you.
Storage heaters A new law commonly known as Lot 20 was introduced to the UK in January 2018. It's a new energy efficiency regulation that is having a dramatic effect on the way we heat our homes.
Lot 20 relates to local space heaters and includes storage heaters, electric radiators, radiant heaters and underfloor heating. We're still able to repair older models but in some cases, parts may now be out of production. If you rent a property out and need to improve your EPC energy efficiency rating (must be a minimum of D) then installing one or more of these new heaters would definitely help.
Power showers Power showers have a pump to boost the water flow, meaning they deliver more through the shower head compared with non-pumped versions. Power showers work in the same way as mixer showers in that they combine water from both the cold and hot water supplies. They're particularly useful if your home has low water pressure.
Extractor and humidity fans An extractor fan is useful for many purposes. They can be installed in any room that has a problem with humidity, gasses or smoke. They are usually easy to fit into a pre-drilled hole in the wall, and some models can be fitted into a window pane.
Smoke and fire alarm installations Every year the fire and rescue service is called to over 600,000 fires which result in over 800 deaths and over 17,000 injuries. About 50,000 (140 a day) of these are in the home and kill nearly 500 and injure over 11,000, many which could have been prevented if people had an early warning and were able to get out in time. In fact you are twice as likely to die in a house fire that has no smoke alarm than a house that does.
A smoke and/or fire alarm system could help save your home and the lives of you and your family.
Plumbing and heating services We use qualified, experienced and gas safe registered engineers for all aspects
of plumbing and heating services.
Locksmiths We use qualified, experienced and registered members of the UK Locksmiths Association for all locksmith services.
Fault finding
Test and inspections
PAT Testing
Landlord's condition reports
Immersion repairs and changes
Consumer unit upgrades
Additional sockets
Relocation of Sockets
Light fittings
Generators
Rewires
Partial rewires
Outdoor power
Security lighting
Storage heaters
Power showers
Extractor and humidity fans
Smoke and fire alarm installations
Plumbing and heating services